The Vision
In 1990, rugmaker Vicki Fraser had a vision to create a large-scale work to honor her home state of California. She wanted the work to be wholly California, from beginning to end. Therefore, all the materials used—from the fibers to the loom and hand tools—were created and/or harvested in the state. These artistic choices add to the integrity of this pictorial rug with its woven motifs of the state's rich history, legends, and lore.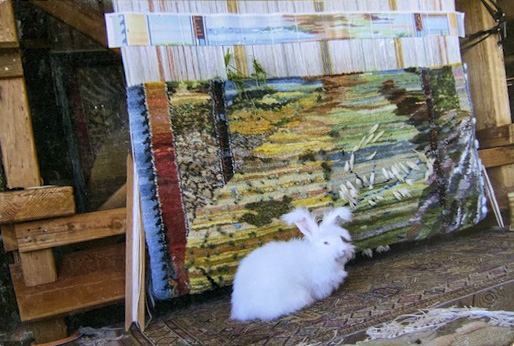 Cartoon: In rug making parlance, a cartoon is a rug design on a paper grid. Cartoons provide visual directions for the weaver (e.g. color and placement of knots) while working at the loom.
The Design
Vicki began the actual weaving of the rug in May of 1997, based on a prototype from 1980 that she had created while in London, England. With the aid of a partial "cartoon" developed on embroidery software, Vicki hand-knotted several rows of the California Rug. She set the parameters at 6 squares per inch, 359 knots/squares per row. In November, 1997, fellow artist Emily Whittlesey offered her design skills and worked closely with Vicki to create many of the digital design elements, as well as her final digital cartoon, for the California Rug. The cartoon was then printed out in 6″x5′ sections and in stages, and one section at a time was temporarily attached to the warp strands to serve as a guide during the weaving process.
The placement of the Los Angeles Freeway system was introduced some years later, as was the final sculpture of the pile.