Materials and Specifications
To accommodate the 5′x15′ rug, the artist's son Simon Fraser designed and built the California Rug loom based on his earlier prototype. This quarter-scale model took six weeks to construct, working out all the structural challenges, and the final loom took two days to build. The working loom's 4′x10′ verticals were salvaged from the A-beams of one of the original Pacific Lumber Sheds in Petrolia, CA.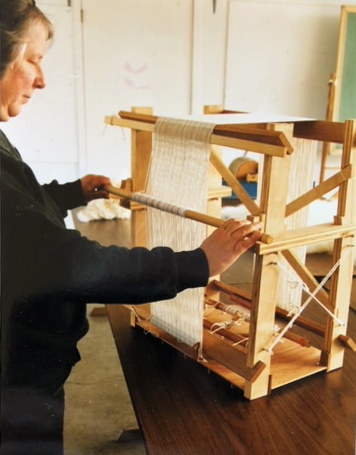 In order to preserve the integrity of the raised pile components, including Angora wool, the loom is specially designed with an 8′ vertical weaving face that allows 22′ of warp to remain fully exposed during construction process. The warp is primarily from acala and pima cotton. The strand for the warp is S-plied from a 3-strand Z-spin, and is Z-plied to a 9-strand 3-ply. Over 800 warp cords—each 22′ in length—comes from 40 miles of cotton strand. The weft is two shoots of 3-ply cotton between each row of knots.
"Because the rug was going to be so heavy and the hand-spun cotton so fragile, I decided to use the depressed-warp method to strengthen the body of the rug; therefore, the weft had to be composed of two different strengths of cotton. The first shot of weft I used a warp to render the depression in the warps. Changing the shed, the sinuous weft was hand-picked to flow around the depression. I then used a heavy beater made from metal packing straps bound together to beat down the beginning kilim end. I used ten rows of weft before I started placing the knots. The first row and all subsequent rows were 359 ghiordes knots. Consequently, the rug had a Persian depressed-warp system with a Turkish knot construction."
— VICKI FRASER, RUGMAKER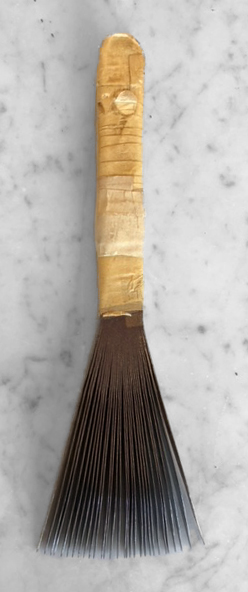 Learn more about the fiber used to make the California Rug here.