Wholly California
From planting and gathering, to dyeing and spinning, the California Rug was crafted solely of materials from the Golden State. Dyes were developed from native plants, minerals, and insects; fibers were harvested from local cotton fields and collected from neighboring ranches; the loom was constructed of salvaged wood from Humboldt County; and the tasks of fiber dying, spinning, and weaving were performed by California artist, Vicki Fraser.
To create this rich 5′x15′ hand-knotted rug, Vicki gathered and spun over 50 miles of Central Valley cotton and collected and processed fleece from 15 different breeds of California-raised sheep. Also, in order to support her vision of the work being literally and figuratively all-things-California, she hand-dyed much of the pile using plants she grew in her own garden.
Fleece Preparation
Preparing fleece is labor-intensive. Romney, Corriedale, Lincoln, Leiscester, and Churro were processed with detail and care. Each fleece was skirted, separated, washed, teased, and carded before it was spun.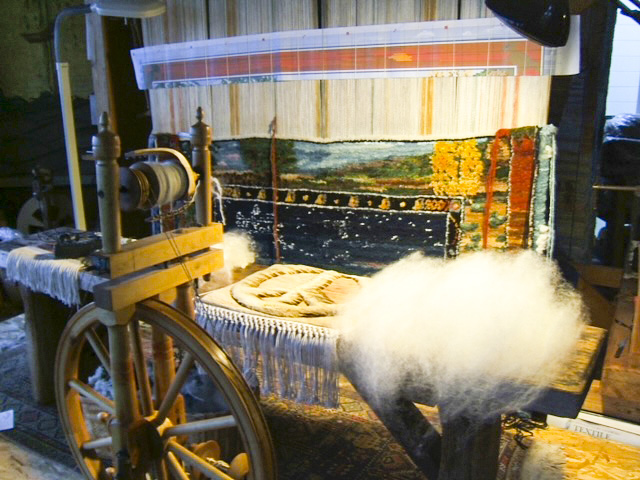 Loom, Warp, & Weft
In order to preserve the integrity of the raised pile components, including Angora wool, the loom was specially designed with an 8′ vertical weaving face that allows 22′ of warp to remain fully exposed during construction process. The warp is primarily from acala and pima cotton. The strand for the warp is S-plied from a 3-strand Z-spin, and is Z-plied to a 9-strand 3-ply. A thousand warp cords – each 22′ in length – comes from 40 miles of cotton strand. The weft is two shoots of 3-ply cotton between each row of knots.
The rug's pile comes from a low-twist Z-spun strand with one to thirtee strands per knot. Knot count is approximately 36 kpi. A total of 750,000 knots takes approximately ten years to complete.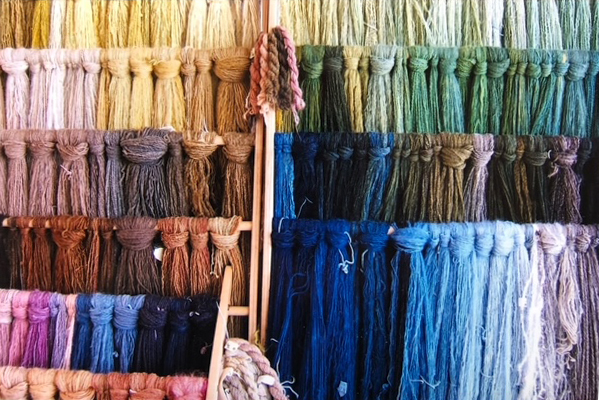 Dyeing
Skeins of spun wool were non-mordanted for dyeing in the indigo vat. The 28-day cold mordant process from ancient Middle East, rediscovered by Nest Rubio of Cambridge, England, was used for dyeing madder and weld. This process assured the most light-fast color. Additional dyes from mushrooms (hydnellum, peckii, hydnum, imbritatum and omphalatus olivascens), and silver dollar eucalyptus (e. Cinerea and e. crenulata) give amazing new hues.
Design
While the symmetry of design honors Oriental tradition with a central field surrounded by a major and several minor borders, it is a contemporary design. The central field is a grid of lush colors representing Central Valley farmlands. The major border designates rolling golden hills with a design of highway systems inspired by Celtic knotwork. Minor borders represent high technology, city skylines, forests, deserts and oceans.

Learn more about the symbolism woven into the California Rug here.